Just read, or re-read "Sailing the Sea of OSINT in the Information Age" by Stephen C. Mercado from the Studies in Intelligence Volume 48, number 3. I've had this for a while, I bought it 2013. Which is part of why I don't remember if I read it before. It's available from the CIA's Library. It's an article from the CIA's Peer Reviewed Journal.
I found it very informative, even for something originally written in 2007.  While today, I think most of us in IT, think of OSINT as mainly tracking social media accounts (what some call SOCINT), it really goes beyond it.
The main points that were brought up:
OSINT has been there for a very long time, since the beginning of Intelligence programs in the United States. It just hasn't ever been formally given a department like others.
It's based off public media like magazines, books, news papers, radio and TV broadcasts.
There are not enough people who understand foreign language / culture to get proper use out of OSINT.
There is things in the public space where OSINT lives that comes out better than in some of the other sources of intelligence. An example was information gathered by the Japanese about a former KGB officer.  "The resulting book and Levchenko's press conferences were, according to a US intelligence officer, more revealing than his CIA debriefing".
Which oddly ties in to something I saw on my Firefox browser recently.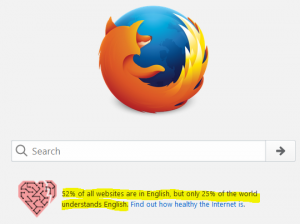 So I'm curious, do we as a mono-langauge culture really have the skills we need to do intelligence. How many data leaks are found on foreign language hacking forums?
The article is worth the read, and brings up some good questions. I liked Mercado's recommendation on making the Foreign Broadcast Information Service an intelligence service again, put OSINT under it, like how the NRO has IMGINT, and create incentives for people to study things like language and culture to increase the ability of the agency.